The Weekend: Business done well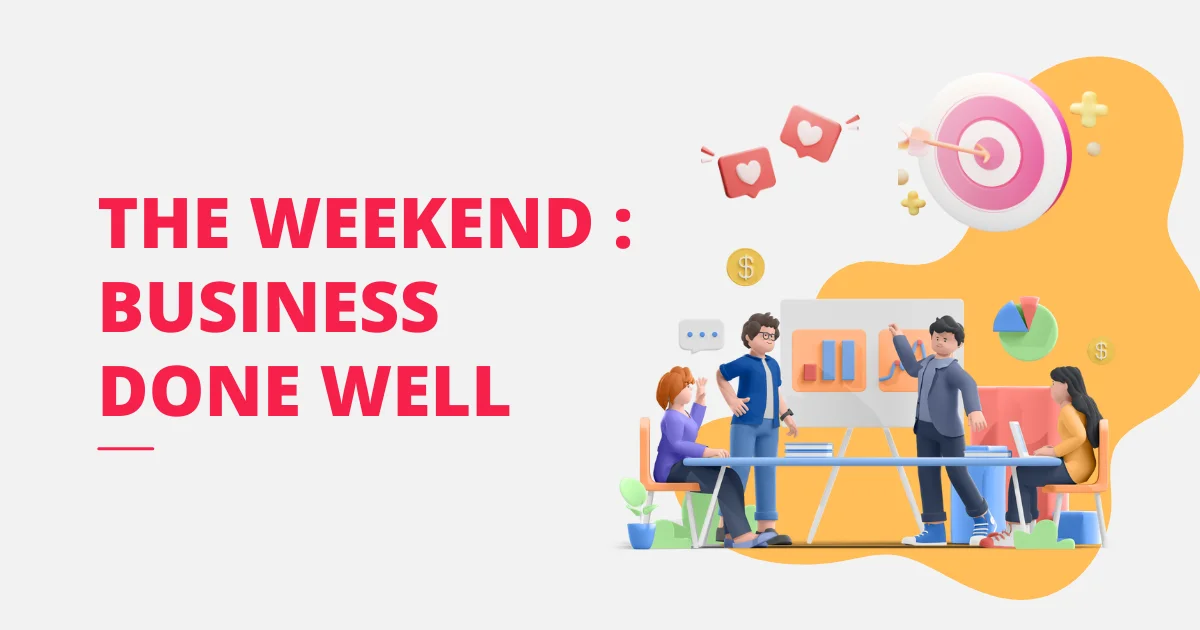 Hello readers, hope you are all doing great. You know, many times we try looking out for a solution to a problem and end up in a state of confusion, due to non-availability of concrete answers or lack of relevant people to guide us. That fire within, that enthusiasm to stand out from the rest is the key ingredient that acts like a rocket fuel- one of the prime drivers to excel.
We shall not talk statistics here but strive to depict what the trend is and how you as a prospective entrepreneur help make an impact with your brand power. Thinking " Dude, I don't have time and how do you expect me to fuel my interest"? Well, the famous saying "Where there is a will, there is a way" stands apt during such times. We do agree there is a shortage of time in this hectic schedule, but then what if you were effectively able to implement business with a full 48 hours in hand? " 48 hours, err…from where?" The answer - "Saturday and Sunday".
The routine 9-6 schedule. Anything new?
The moment we log-in at our workstations, we get occupied with our computer, who is your virtual colleague for the next 8 hours. Though you are happy with your work, there is a spark of ideas that arise like a spring breeze that compels you to spend weekends in a productive and a healthy manner. Why not? Not a bad idea after all.
How amazing would it be if you could focus more on your would-be business especially on the weekends, fulfilling your dream of exploring your potential. Many of us are unable to manage the time effectively, that is the root cause of all the business management. This applies to part-time and full time businesses.
All you have to do is tie up with an excellent IT solutions and marketing provider, discuss your ideas and then work further. For example, if you are somebody who is into pottery making (hobby), then it is a fantastic idea to sell your products online, wherein you don't have to be physically available at all times for packaging and shipment. See, this is your gateway to show your love towards your hobby.
IT Solutions is your boat in this vast ocean of Creativity.
Initially, the thought of setting up a business and pairing it up with IT solutions might sound a bit doubtful. Upon consulting the IT solutions company, you now have a good picture in mind of How and when. Options are many :
A mobile application for your business. (from apparel to food, it could be anything)
A website for bringing life to your hobby. (Hobby is life)
An E-commerce website too. (For that quick reach of your brand)
Digital marketing methods to help reach your brand to more audiences and enhance the ranking of your would-be website.
You can check your health and monitor your business from anywhere and anytime. No need to take leaves from your work. This is the biggest advantage that you get. You can also get payment gateways integrated, along with the option of customisations always open for you.
Part-time to Permanent happiness
It's your interest, it's your approach that shapes your future. Initially days might be challenging, but in the long-run it will be a smooth sailing with you thinking every second "Wished Had I known this earlier". If you are already into a full time job and interested in making out of the box business, then Avantech Web Grid is the right platform that strengthens your desire to grow your business. Every second is precious. Make a note of what all you need and how you intend to implement it, which actually saves a lot of time. Then approach the agency that best matches your requirements.
Avantech Web Grid: The leading IT solutions and digital marketing service provider in Hyderabad. Talk to us on +918179817543 or Webgrid.in. Think no further, when Avantech Web Grid is your business bearer.
Viewers, we hope you were motivated to a certain extent by this section. Talent and ideas are