How computers have changed our lives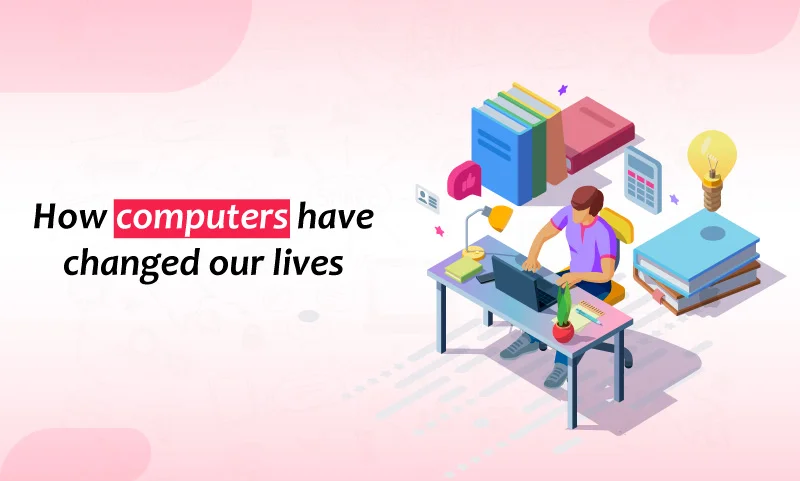 Hello readers. We hope your kids must have left for school and you can now relax a bit by this article presented in a digital format. So, with piping hot coffee let us begin this journey.
The Good old days
Mid 1980's and 1990's were the years when computers started gaining momentum in India and they were often restricted to huge companies. We are sure, many of you could relate to it. That bulky looking monitor resting on the central processing unit (CPU box) with a slot for floppy, completed with a thick big keyboard and a dot matrix printer. This was the era of the beginning of growth of computers in India.
Slowly, the use of computers expanded to clerks, educational institutions and banks then.In other parts of the world, especially the United States, PCs (Personal computers) were found in almost every home. Kids played games and other documents could be stored on floppies. One of the most popular computers of that time was "Commodore 64". As times changed, so did their design and technology. People worldwide started to get a grip on the computers and their usage. By the way, how many of you remember those CD's with the rear colourful shiny side, often used as a mirror or for decoration? This was another memory for all of us.
The time now- Computer isn't a luxury symbol anymore
With economies growing rapidly, enterprises have grown at a tremendous pace. Managing business and storing data is not easy, since huge amounts of data needs to be stored on the disks or in the form of cloud storage. A computer has become a game changer now. Laptops, ipads, macbooks are all the latest innovations. Movies, music, crucial data etc all goes with you wherever you go.
Bonding the gap between Rural areas and Urban jungle
India has been an agrarian economy. With increasing GDP, connecting villages to cities and the world digitally has yielded excellent results. Computer education is being propagated in remote towns, villages. People now know what a computer is and how it looks. Farmers can now create their bank accounts, kisan accounts online through computer centres, many have their own email ids and they can also send mail. Men, women & children have equally benefited from computer literacy.
Advantages of computers :
Saves time and labour.
Quick calculations & ticket reservations can be made.
Huge amounts of data can be stored digitally on external and internal storage disks.
Send mails (emails) from anywhere to any part of the world.
Multimedia, Simulation & gaming are now performed using computers.
Laptops have become more popular. You now can carry your work anywhere.
Special backend scripting languages can be used to create useful websites.
Students, family members can also learn the basics while sitting at home.
What's the future of computers and humans!
From desktop to palmtop and laptop, not only has the size decreased but its potential and usage has increased many times. We cannot imagine a day without computers in this age. Even if one system fails or crashes, its effect is felt on a large scale. This is how the situation is. We have begun trusting these machines more than our own capabilities. Computers and their benefits would definitely see major changes in terms of software, hardware and interface in years to come. Hoping for a healthy digital future.
Once again, we thank all our readers for contributing their precious time to this retro-modernish article. Stay tuned for more.
"An investment in knowledge pays the best interest"