Digital Marketing Your Essential Business Masala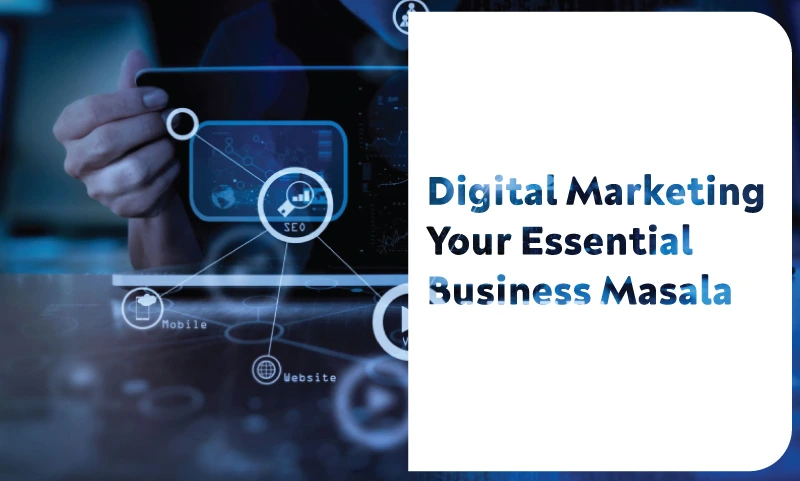 Welcome to our blog quota, where we shall take you to a special arena that is exclusively meant to heal your business and soothe you at the same time. Gone are the days when the word "business" gave us a picture of an old grandpa, dressed in a three-piece suit, with a briefcase, case folder, looking important with a high-end phone & running pillar to post "chanting board of directors" all the time-Woh din gaye.
The present trend is-business ko kaise develop karoon? The concept and approach to business has seen a dollop of enhancement and opportunities for startups and entrepreneurship. Our nation is now booming with young, talented minds who are thirsty to come up with business ideas aimed at growth and market reach. And all this is taking place right from the home. How cool is that ? Access to technology and finance is spewing ideas with a desire to fulfil goals, both short-term and long-term. You do need to be a business stalwart to run an entity or succeed in the market. The enthusiasm and financial backing is all it takes. Once fired up, your business engine delivers power and torque that can be controlled by you.
Just imagine your only business, generating wings, growing stronger and ready to soar in the open skies, only needing a firm ground to generate lift. You must have your own firm base, which is essential for the growth and expansion of your market.You may be wondering how? Well, it is easy, no rocket science.
The secret masala for a flavoursome, sustainable business is digital marketing. Sounds familiar, doesn't it? You are eager to make an impression with our company but are unconcerned about providing your business balloon with the necessary amount of helium gas to lift it off the ground. This is the bitter truth, as aspiring businesses often fall flat to the ground in a short period of time. When you have surrendered your time and funds to run your business, it is advisable to reach out to a wider audience by the means of digital marketing—the makeup artist for your business.
How would I benefit from digital marketing ?
Easiest & quick route to showcase your market
Cost effective in majority of the case
Various plans available to discuss according to your criteria
Long term focus is always suggested
Stay connected with updates & followers.
Stay updated via your smartphone, anytime & anywhere
Oh, I just did not know about these. Can I also exploit my business potential? Why not? You should definitely hop in right now. Every second counts. There are fantastic ways to tap your audience.
Search engine optimization : Relevant data with keywords appropriately placed, thus increasing the chances of ranking your product in the leading page. Short keywords are the best. Critical tools such as Google Ads & Ahrefs are often helpful
Search engine marketing : A special form of digital marketing that involves increasing the ranking of a brand. This method is carried out in the form of paid advertisements.
Content writing : A powerful & one of its kind approach that drastically enhances the reach of your market by the appealing description & information. Content writing is often written & presented in a lucrative manner, as audiences prefer attractive & striking reading materials.
Social media marketing : The popular & widely used form of digital marketing. Social media marketing makes the best use of the social media platforms that make it easy for a brand to jump from one eye to another. People click on the product that takes them to the company's website.
Email & WhatsApp marketing : Your product becomes famous due to the fact that email marketing involves product subscriptions & special discounts that takes the customers to the products page. The product performs well when people share the information by WhatsApp through forwarding & sharing. A good chunk of the population uses WhatsApp & this is one advantage, where marketing is carried at any time without any restrictions.
Affiliate marketing: This form of digital marketing involves a company compensating a third party promoter or marketer for driving traffic. This form is highly popular especially with content creators, who publicise about a specific product or a brand.
Some DIY friendly tips that can be result yielding
Spread your Business by word of mouth. Friends & relatives are the best.
Ask your friends or relatives to assist in between if possible.
Your very own social media pages can portray your market with relevant tagging.
The first time discounts tend to draw more customers.
Service with a smile too plays an important role in gaining the confidence of your clients & customers
If there are any deadlines, promise them a date that also includes a buffer time, just to play safe.
Get some brochures or flyers distributed, target some special places relevant to your newly started market.
Explain in a crisp manner about your offering or the product
Starting and leading a business is never easy. In most cases, families, friends, and relatives often lend a helping hand in the initial run. The responsibility to keep the vehicle in your business on the correct track and at the desired speed lies with the individual behind the steering wheel. In most cases, investments in the beginning are huge, and some even require funding over a period of time. An effective plan, framework, focus area, and niche need to be worked on even before the very thought of a business is established.
Now that you have got a good picture of digital marketing & methodology, you just do not have to worry about your business expansion when the best firms are always there beside you. One such notable firm is Avantech Web Grid, the leading software development house in Hyderabad, who has been delivering I.T-based solutions and digital marketing strategies for businesses to rise and shine. With a fabulous and hard-working team, brilliant digital marketing and I.T. Based solutions just stand out. All you have to do is just drop us a call on +918179817543. Flourishing businesses are happy businesses.