ERP - the game changer for enterprises & workspaces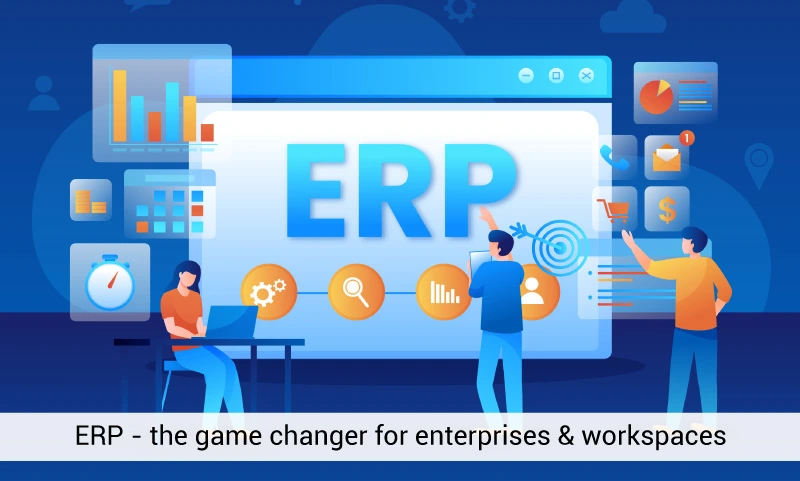 Starting another fresh and energetic day with this techticle, that would elaborate a bit about a unique software that took businesses sky high. Just three magical letters were sufficient to make an impact and those were E, R & P. You heard it right. We are talking about Enterprise Resource Planning (better known as ERP in short).
Conveying the concept of ERP in simple terms
With tremendous competition in the present markets, enterprises(businesses) are in fierce battle to maximise profits with minimal wastage. Every material counts, every single is tagged with capital. Even though ERP did exist in the 1960's, its potential was acknowledged only after the 1990's at a moderate pace.
Before ERP made its entry into markets, there was something known as MRP (Material Requirement Planning) that quickly made its way among the selected industries in the early 1970's. MRP was as a result of the collaboration between IBM and a tractor manufacturer company, which enabled them to forecast the demand in advance and ensured efficient operations.
There were days when the entire operations especially accounts & finance were performed manually, exhaustive hours spent on calculations with a good chance of errors arising out of it. Not only this, even the sales department had a tedious task of stock checking for any prospective leads and to ensure updated stock in the warehouse.
Modern day ERP system works as a centralised relational database that sends data to other business verticals such as : HR, Finance, CRM, Logistics, Purchase & Inventory.
The advantage of ERP based systems:
- Enhanced Customer relations & client data at one place.

- Calculations made easy for the finance & accounts department.

- Forecast the need of supply & demand

- Enhanced sales and maintaining a track of leads.

- Orderly updation of stock & inventory in the warehouse electronically.

- Payroll data, attendance and leave management for staff is easy to process

- Optimum utilisation of staff.
An enterprise (as we call it) are simply businesses and it can include a small to large scale operation with various departments involved such as :
- Human Resource

- Finance & Accounts

- Customer Relation Management (CRM)

- Inventory management

- Purchase management
It's time for you to embed the change for good
Getting ERP software is not difficult. But before you try to get one, you as the owner of the enterprise need to analyse the trends in your business and perhaps you can get a customised version that best suits your operational needs. HR, CRM , Payroll management are a must though. Avantech Web Grid, in Hyderabad provides you with fantastic ERP known as Gen ERP software for your startup, existing enterprise. As a leading ERP software development agency in Hyderabad, you can ensure maximum profits from minimal wastage of resources. Easy to reach on +918179817543 & webgrid.in
We know it's important for our readers to know some useful piece of information through this medium and it's our constant effort to bring you the very best of it. Thank you for devoting your precious time to this blog.