Digital Rupee - From paper to no-paper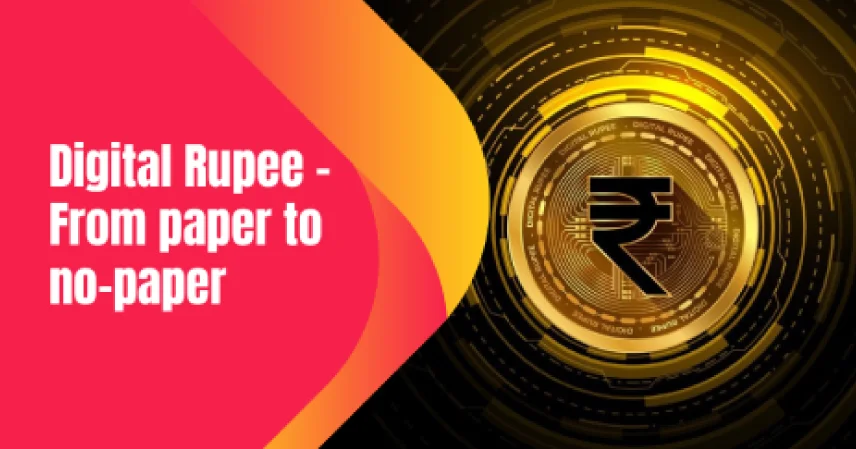 A big hello to all our readers. Today's subject for this unique column will be our digital rupee, which has taken all of us by storm. Worry not; this version of the rupee is all set to make you feel more relaxed.
Thinking what Digital Rupee is?
In simple terms, a digital rupee is just like the physical form of paper currency that we use daily, but in digital form and is available in the denominations of e-?2, e-?5, e-?10, e-?20, e-?50, e-?100, e-?200, e-?500 and e-?1000. The digital rupee, denoted with "e-?," is legal tender just like the physical currency. Since the RBI (Reserve Bank of India) is the parent body governing the banks in India, the digital rupee is presently being rolled out on a pilot project basis in 2 phases that include 4 banks each.
Phase 1 includes SBI (State Bank of India), ICICI, IDFC Bank, and Yes Bank. Under phase 2, Bank of Baroda, Union Bank of India, Kotak Mahindra, and HDFC Bank are participating.
How does an account holder use it ?
To be able to use digital rupee, the account holder must have a smartphone. It is mandatory to have a wallet that is linked to his bank account. Hence, you as a personal user can perform transactions to somebody else or to merchant outlets.
One must not confuse Digital rupee with Digital payment options(such as UPI, Google Pay, Net Banking etc.). Digital Rupee is equal to your routine denominations/funds. People often are unable to make out the difference between the two.
Advantages of Digital Rupee
You now don't have to worry about misplacing money.
The need to print paper currency may reduce over the period of time, thereby minimising the need for paper.
Transparency enhances, thereby enhancing economic growth.
No more worrying about damaged currency notes.
Carrying out international transactions is simple.
Customers can load up to INR 25000 per day, and this amount may vary from bank to bank, along with the upper limit.
The future of Rupee is already here
As India progresses, it has once again set an example for others. Today, making Indian rupee available in a digital form is yet another achievement added to the crown of India's growth. This special column must have generated some good pictures with respect to digital rupee and we are sure you are already geared up to welcome this new change in this new year.
We hope you all got an opportunity with this out of the blue subject for this column. Stay updated and stay tuned for more.
Technology and IT solutions round the corner
Many of us often find it challenging finding the right place to enhance businesses. From now on, you just don't have to worry about it anymore. Avantech Web Grid- the leading and dynamic IT solutions and digital marketing service provider in Hyderabad understands the core essence of your business and works further by taking your views into consideration. From android app to iOS app, from website to business promotion, you can relax once you are with us. Reach us on +918179817543 or Webgrid.in