Teaching how to use a smartphone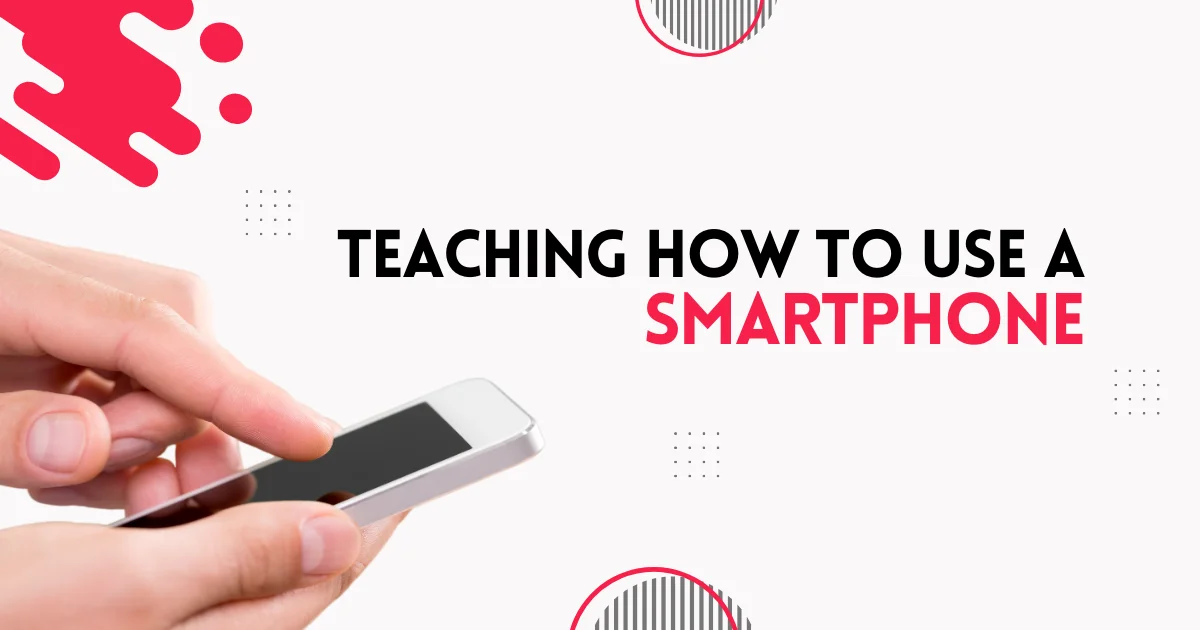 That moment when you are asked for help
The world changed when HTC launched its first android smartphone, 'HTC Dream' in 2009.
"Babu, oka saari e smartphone nee ela use cheyalo cheppava?" (Could you please guide me on how to use this smartphone ?) - a question that many ask their near and dear ones, people traveling in public transport, at banks etc. Many times out of embarrassment, such smartphone users refrain from asking for help, which ultimately leaves them in an uncomfortable situation.
This is because they are not used to such modern phones.
They are unsure, if something goes wrong leading to the damage of the handset.
The feeling - " Should I ask them to unlock my phone?" or "I am a grown up man, what would this kid think if I asked him/her for help?"
The reasons why such unwelcoming moment arise is due to :
Our parents and grandparents were used to the wired telephone.
Convenience of keypad phones from nokia, motorola which was simple to use with limited menu options. All they had to do was just press * to unlock their phone & navigate to : Menu - Contacts- choose the contact.
In their times, the world was much a better place to live to the fullest than the present.
One major reason is some of our parents, seniors cannot read properly due to health concerns or lack of education.
What makes so-called smartphones tricky to work with?
Kids and adults have no problem getting used to the functionality of smartphones, as today even the newborn's first word is not Amma, it's GTA or Reels. This is the reality. Even if the baby has not asked, then as a matter of prestige and show-off the parent would put an ipad in his/her hand, that marks the beginning of the spoiled child. As the kid grows, they get used to such gadgets and start crying and throw tantrums for not fulfilling their wish for a gadget. No, we are not talking about obsessive compulsive disorder (OCD).
Ok, first things first. Since smartphones work on touch display, there is no * button to unlock the phone as in traditional keypad phones. A slightest of the touch of the finger will illuminate the screen which leaves elders confused.
Secondly, if they have a pin then there are chances of forgetting. So, they write it somewhere.
The apps leave them startled. At times, such users who cannot read or understand English, often find it challenging to fulfil vital tasks related to banks and messages.
Due to the relatively large size of the smartphones, carrying them in the pocket is a unique challenge.
Traditional phones just had SMS functionality. Now that there are social messaging apps and calling apps, users find it difficult to launch them and the menus involved.
We all learn daily; so no harm in guiding others
In school, our teachers taught us alphabets and writing styles. Similarly when you are approached by someone who needs your help with working with their smartphone, then guide them in a simple manner, in a way that they understand.
Be polite and patient.
Maybe if they are not comfortable with the display language (English by default), then ask them if they are comfortable in their regional language. So, this way they will understand you better and gain confidence.
Ask them what all apps they frequently access and guide them accordingly.
Smartphones have helped businesses flourish.
Smart mobile applications are helping business owners in a great way with the help of the mobile application that they got developed for their brand. Now, even while they relax, all the ins and outs of their business and brand can be viewed from their smartphone. If you are planning to launch your startup, or desirous of getting an android app developed for business, then you need a best IT solutions company in Hyderabad.
Avantech Web Grid : is amongst the best Software & IT solutions company in Hyderabad. With a great team of developers , you can get your customised mobile app for iPhone or android phone. Come, get the best out of your business with Avantech Web Grid and also make use of the best trendsetting digital marketing solutions. For details please call us on +91879817543 or visit www.webgrid.in.
Next time someone asks you, guide them well. A small help makes a huge difference. Thanks readers, for taking your time. Don't forget to share and like this article.